PEER GYNT

A dramatic poem by Henrik Ibsen
Nymphenburg Palace Summer Festival
Produced by Ensemble Persona
2023

Henrik Ibsen wrote Peer Gynt about 100 years after the discovery of the ego in philosophy. Throughout his life, Gynt is on a quest for his identity. But whether lying, cheating, or fantasizing, he fails to achieve his great goal.

For this staging of Ibsen's anti-hero play a mountain in two parts was constructed on the open-air stage in the courtyard of the Nymphenburg Palace in Munich. The stage draws a visual parallel between a typical wooden hut and a Norwegian mountain landcape, suggesting that in the quest for one's identity and home one doesn't always have to look too far.

With Yannick Zürcher, Elisabeth Rass, Peter Kempkes, Rodrigo Umseher, Claudia Roick, Sophia Lahme and Monika Steinwidder
Directed by Tobias Maehler
Lighting Design by Matthias Wanek
Costume Design by Sarah Silbermann
Technical Direction by Christian Kern


Photography by Bernt Haberland




Production Management by Sandra Maehler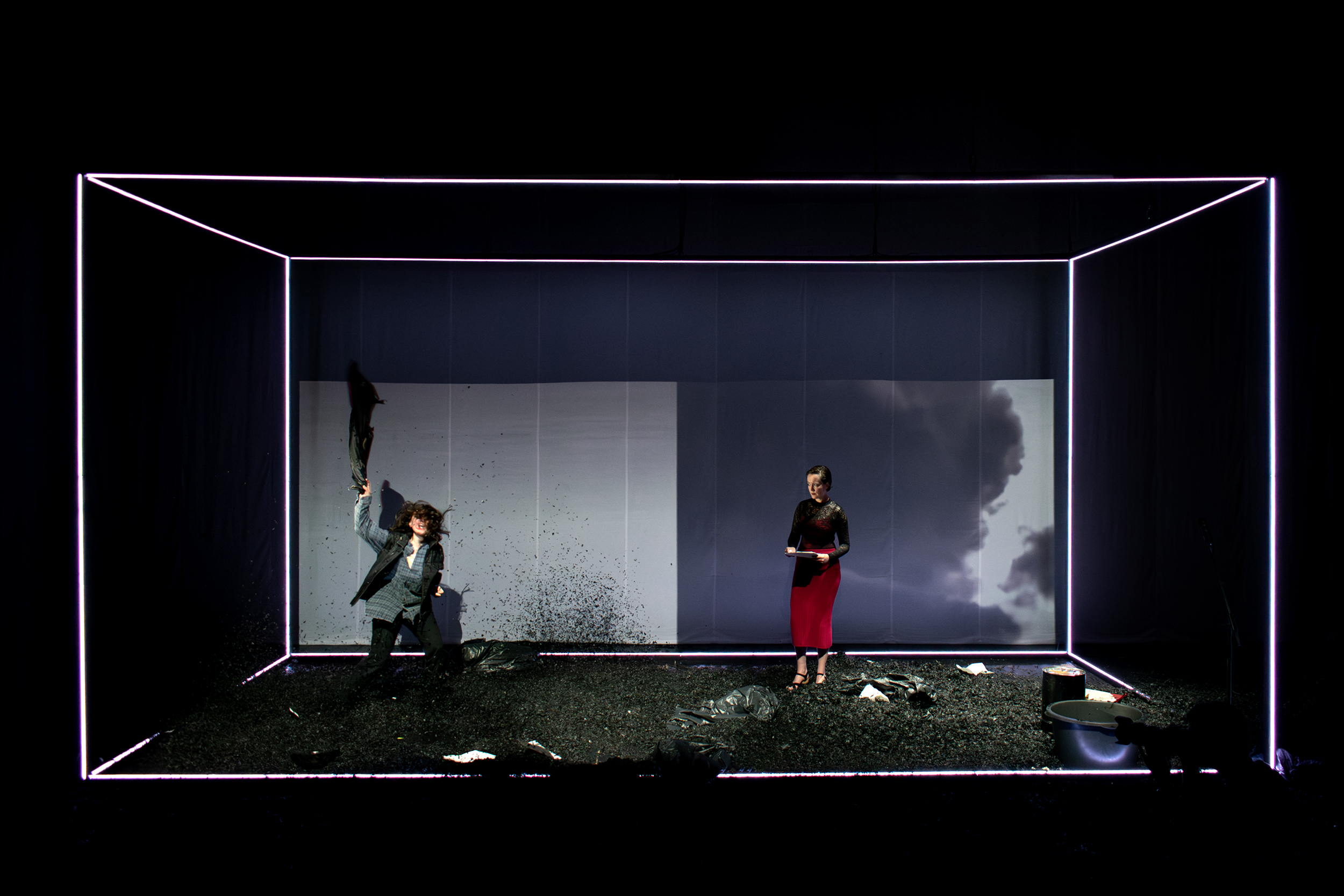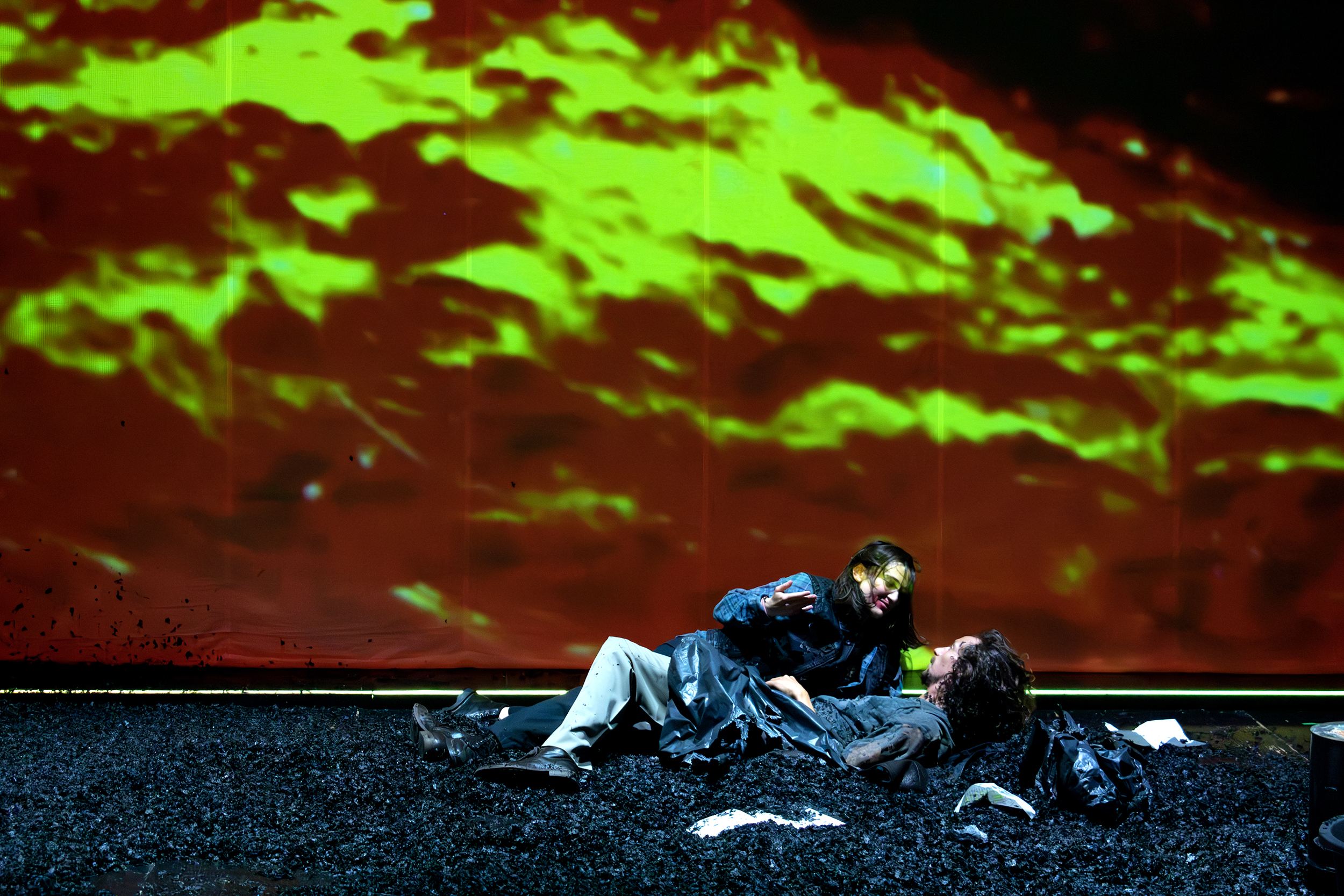 A YOUNG SWALLOWMAN

A new play by Laura Santos
Festival ,Neue Zeit, Neue Dramatik'
Munich Kammerspiele
2023

Laura Santos' new play is set in Argentina, in the Rio Negro Valley. A truck overturns and empties its entire load of cows on the road. Locals approach the scene of the accident to secure the best cuts of meat in a brutal slaughter. Teenage girls Belinda and Mora witness this scene and attempt to rescue a calf, but Mora disappears without a trace.

Over the course of the play, we discover a dense network of relationships and the structures of a social order that make young women disappear, silence them, torture them and finally kill them.

Early in the play the stage is engulfed in an avalanche of black ashes, creating a messy field on which fights and slaughter take place. A sense of imminent danger is underscored by images of volcanic eruptions, rendering the skies black and the scenes deviod of any sense of hope.

Directed by Florian Fischer
Lighting Design by Max Kraußmüller
Costume Design by Heloà Pizzi Mauro
Dramaturgy by Felicitas Friedrich
Associate Direction by Claudia Kaunzner
Translation by Miriam Denge
Photography by Judith Buss
BÜHNENWELTEN

An immersive exhibition of stage models
and accompanying catalogue design
Kleist-Museum, Frankfurt (Oder)
2022

Over 40 stage models from seven decades of theater history can be found in the collection of the Kleist-Museum. Stage models are presented in a variety of environments that focus on their role as works of art, archival materials and designers' tools. History of stage models is shown throughout the stations, as well as various aspects of Heinrich von Kleist's reception in the theater. The exhibition is enriched by additional materials from the museum collection, which are presented part analogue, part digitally through a specially created AR app.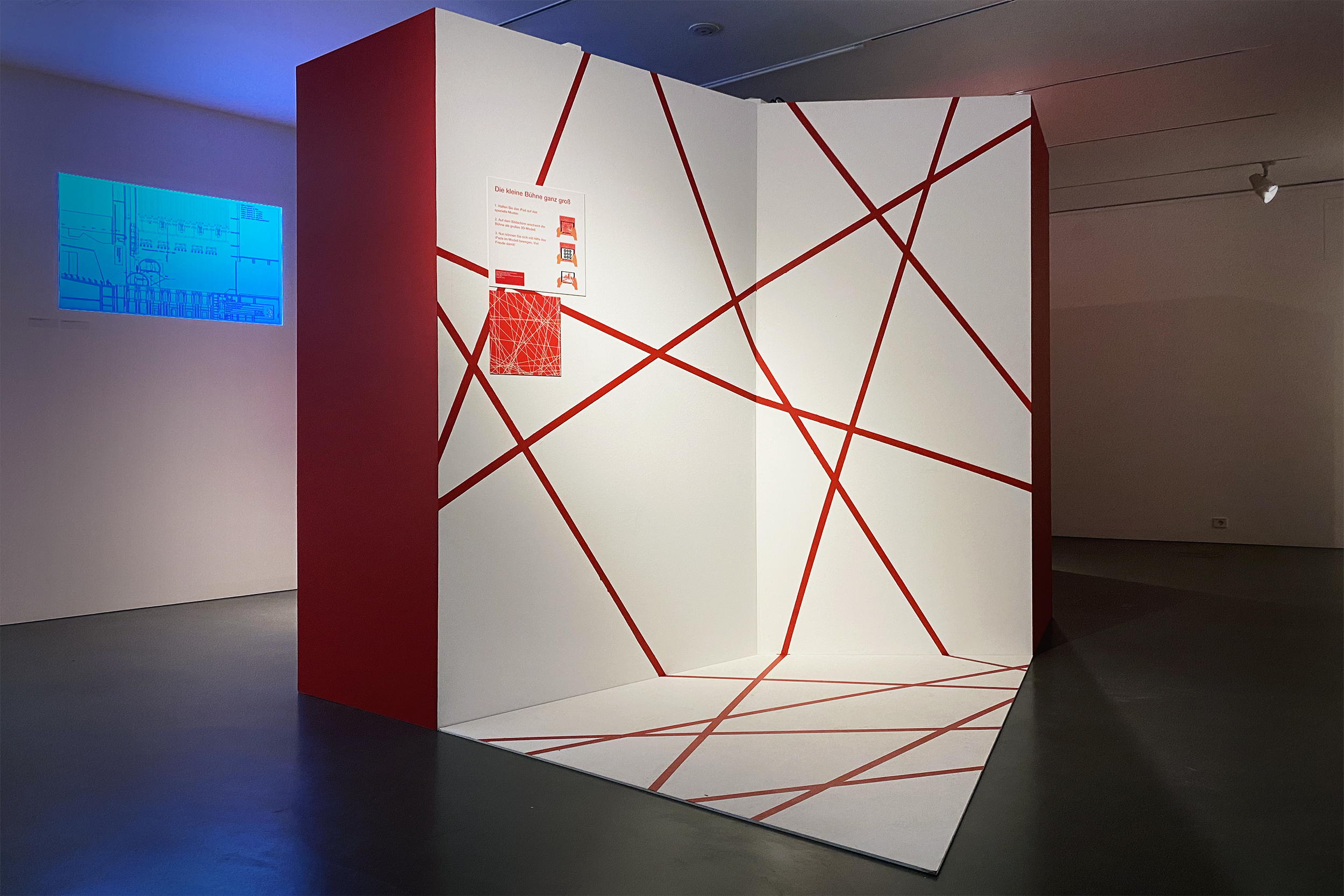 Curated by Viviane Meierdreeß and Milena Rolka
Associate Design by Shel Yan
Polish texts by Paulina Jonczynski
AR Design by Research group INKA, HTW Berlin
Furniture and Montage by Backstage Jonscher GmbH
Technical Direction by Frank Käubler

With generous support of Land Brandenburg Ministry of Science, Research and Culture
EIN GELBER KLANG

A new work based on Wassily Kandinsky's opera script
Music by John Cage, Morton Feldman and Erik Satie
Chemnitz Opera
2023

One of Kandinsky's lesser known works is a stage composition ,ein gelber Klang' (,a yellow sound'), which loosely interprets creation of the earth. We reimagined the 1909 script, matching Kandinsky's ideas with 'abstract' music of John Cage, Morton Feldman and Erik Satie.

Adam and Eve are a K-pop couple, a Buddhist gardening society is planting the first flower. But visions of a potentially bleak future are there too - and a televised nuclear test explodes the creator's apartment.

The performances took place off-site in the monumental interiors of the Chemnitz Art Museum. The stage is a silver reflective amphitheater, an update on the classic Greek form. A permeable curtain cuts through the room, and mobile mirrors blend the reflections of the stage figures with the audience.
With Bjørn Waag (Vocals), Frank Ahnert, Vanessa Betsch, Marika Fritzke, Mario Koch, Andreas Stoff, Moritz Schubert


Directed by Veit-Jacob Walter
Musical Direction by Anna Scholl
Lichting Design by Simon Singer
Designed in collaboration with Tina Hübner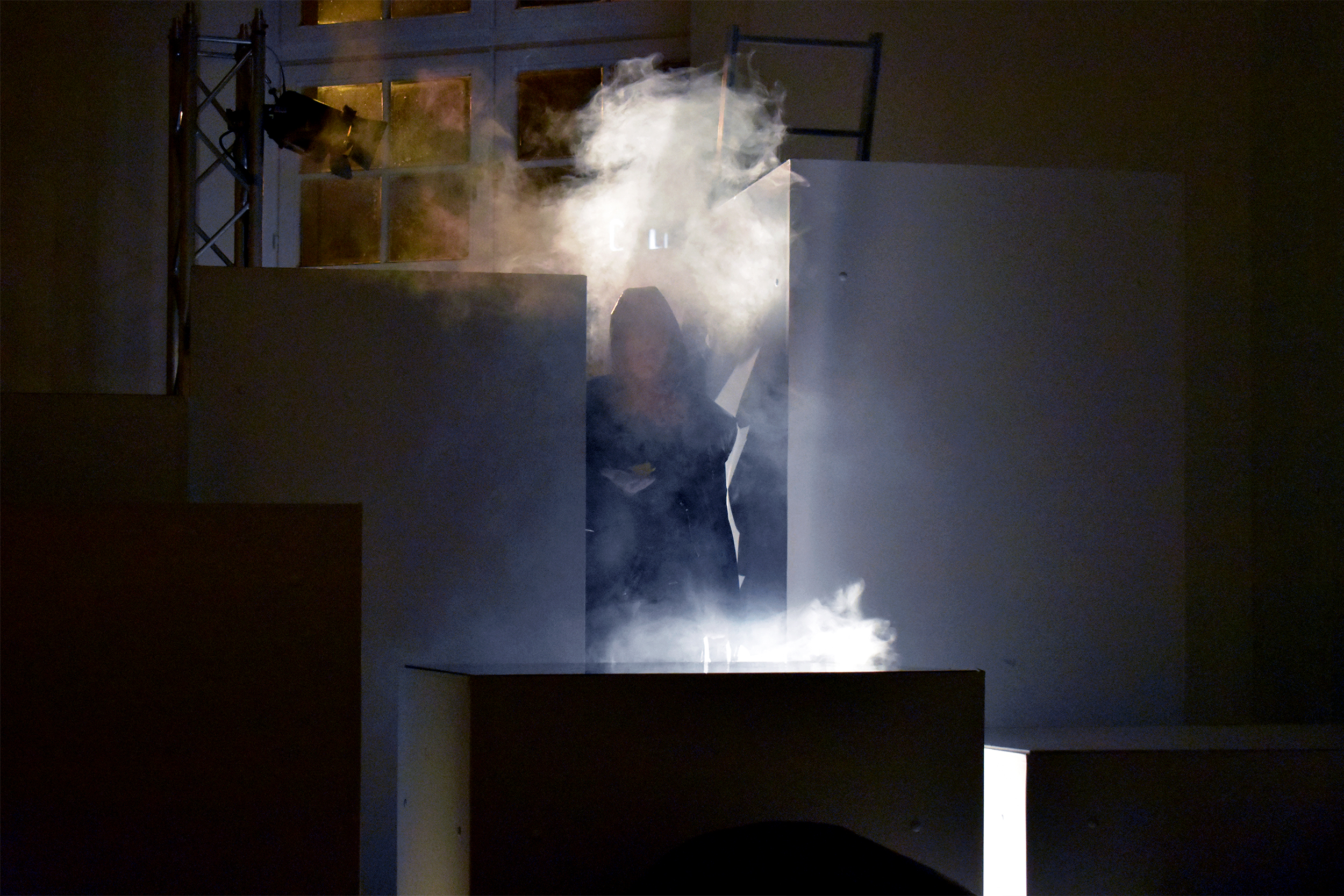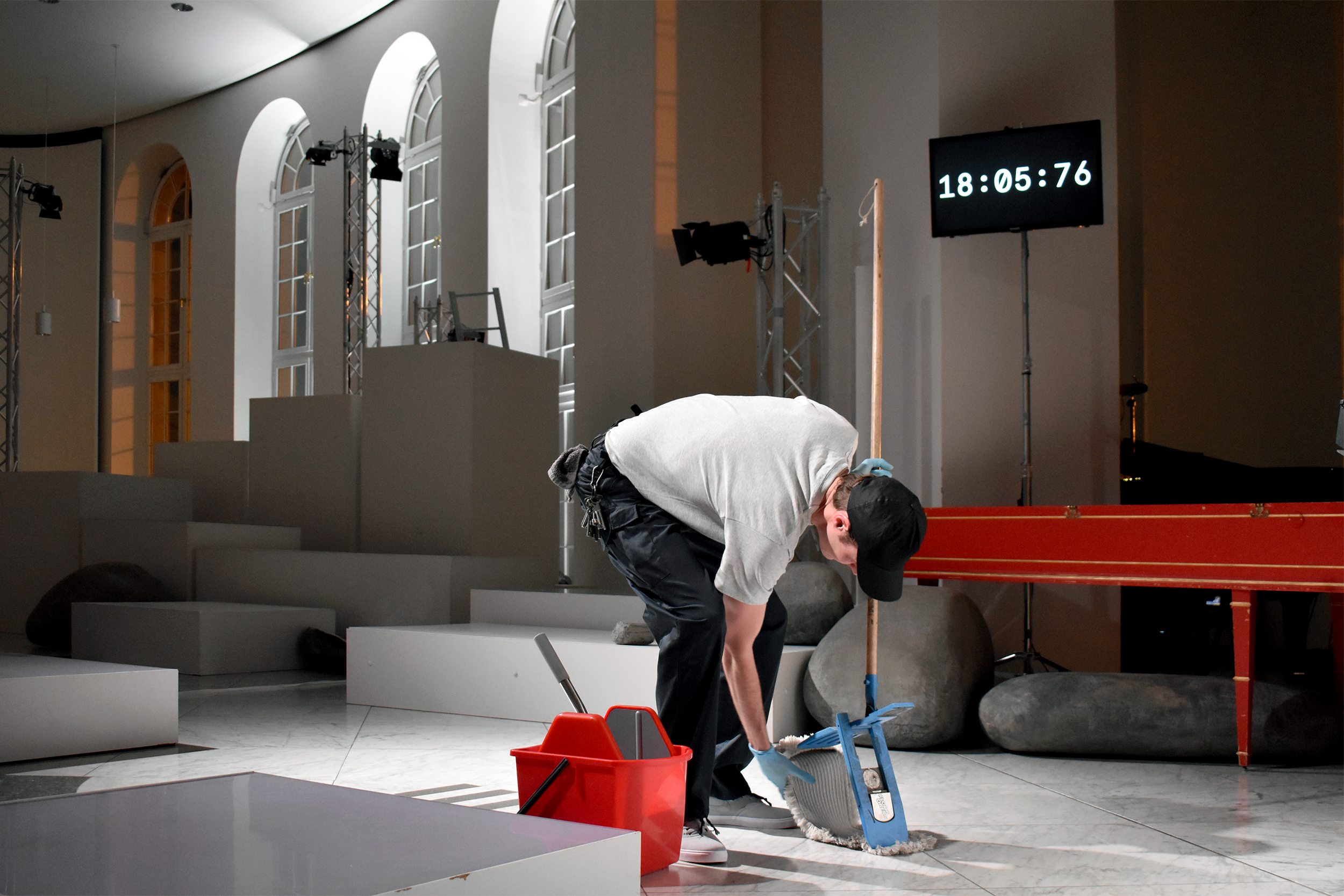 GLÜCK AUF ¿

A musical collage of love, possession and happiness
With Arnold Schönberg's "Die Glückliche Hand", Claudio Monteverdi's "L'Orfeo" and Steve Reich's "Piano Phase"
Chemnitz Opera
2022

The desire to grasp the happiness of the moment with one's hands runs through both Schöneberg's and Monteverdi's operas. Three radically different musical pieces follow one another and show the cycles of human struggle between yearning, conquering, failing and starting anew.

A new mountain was constructed for the show in the middle of Opera Chemnitz foyer. Balancing between a natural and industrial landscape, the set acts as a challenging playing field, which the hero needs to navigate.
Directed by Veit-Jacob Walter Musical Direction by Anna Scholl
Designed in collaboration with Tina Hübner


Played by Till von Orlowsky and Thomas Kiechle

Chor and musicians of Chemnitz Opera