BÜHNENWELTEN
EXHIBITION DESIGN
2022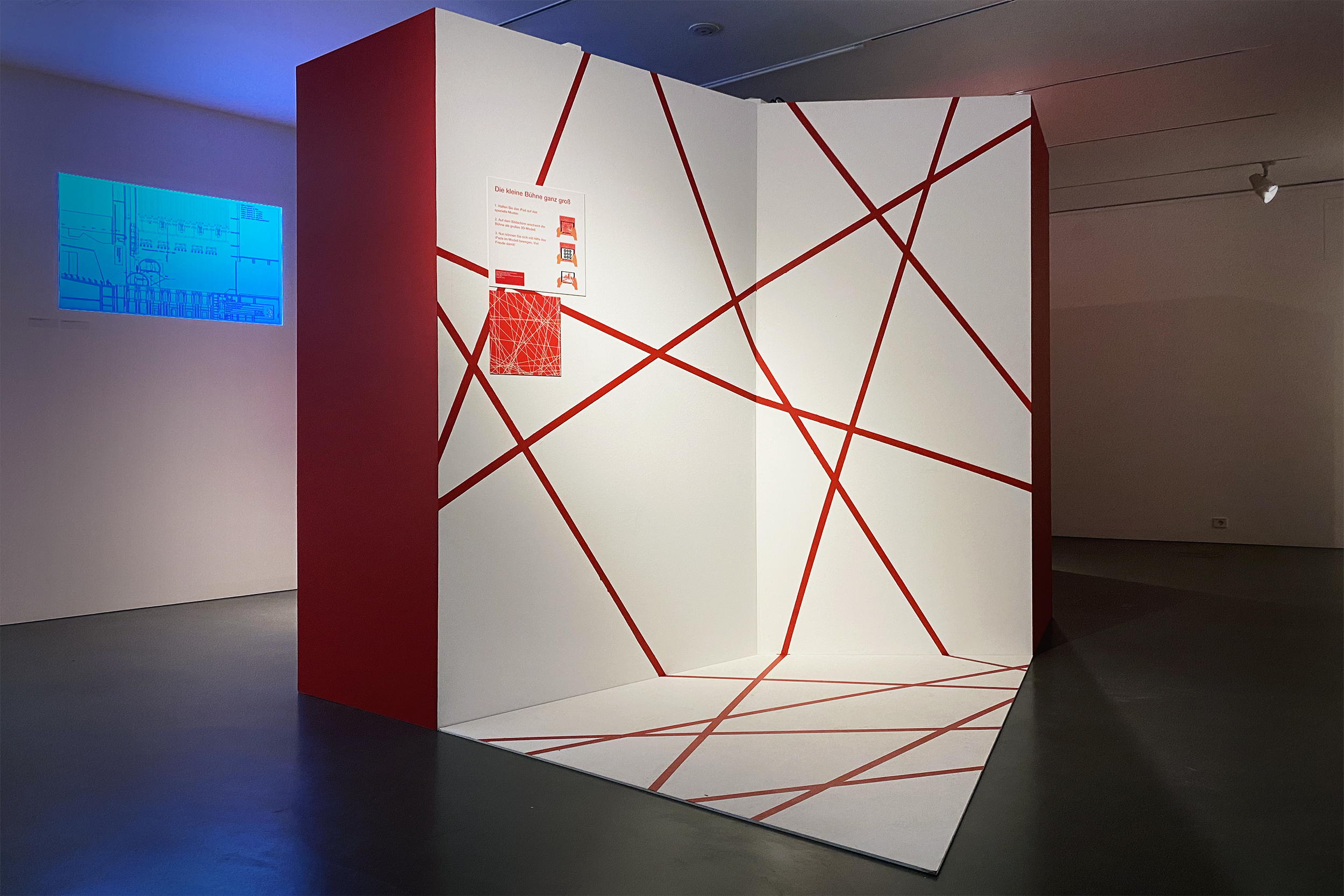 Bühnenwelten / Stage Worlds
An immersive exhibition of stage models
Kleist-Museum, Frankfurt (Oder)
27 February to 14 August 2022
Over 40 stage models from seven decades of theater history can be found in the collection of the Kleist-Museum. Stage models are presented in a variety of environments that focus on their role as works of art, archival materials and designers' tools. History of stage models is shown throughout the stations, as well as various aspects of Heinrich von Kleist's reception in the theater. The exhibition is enriched by additional materials from the museum collection, which are presented part analogue, part digitally through a specially created AR app.
Curators: Viviane Meierdreeß and Milena Rolka
Associate Designer: Shel Yan
Polish texts: Paulina Jonczynski
AR Design: Research group INKA, HTW Berlin
Furniture and Montage: Backstage Jonscher GmbH
Technical Director: Frank Käubler
With generous support of Land Brandenburg,
Ministry of Science, Research and Culture
ÜBER DAS MARIONETTENTHEATER
EXHIBITION DESIGN
2020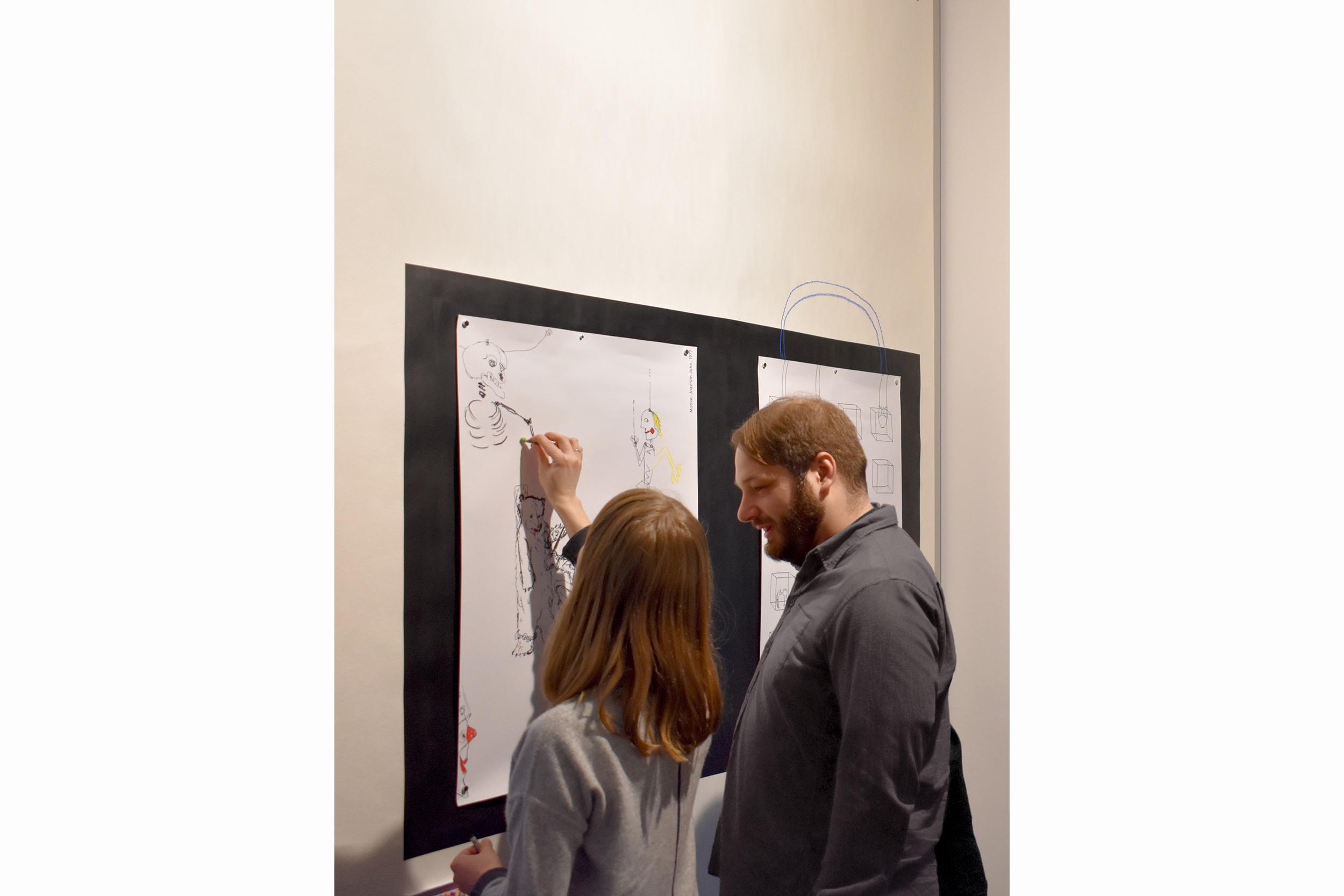 Über das Marionettentheater / On the Marionette Theatre
An exhibition devoted to Heinrich von Kleists text
Kleist-Museum, Frankfurt am Oder, Germany
February 23 - June 21, 2020
Seldom has a text provoked so many questions and interpretations as ,Über das Marionettentheater' by Heinrich von Kleist. German scholars, theater and dance scholars as well as puppeteers and dancers work on the text again and again. The exhibition focuses on the dialogical structure of Kleist's text. In the first space, visitors are invited to walk through three interactive stations and through play contemplate the themes of Kleists text: absolute beauty, imperfection of a human, a possibility of paradise. A black band weaves through the stations and lists all the dialogical words that Kleist used in the text. Upon leaving, the visitor is confronted with a shed. In the viewing hole on its side there is a vision of a paradise, however as they enter it they walk through a staged kitschy darkroom of a night club. As Kleist would tell us, "paradise is locked and bolted".
Curatorial Team: Kleist-Museum, Dr. Barbara Gribnitz
RHYALITY IMMERSIVE HALL
EXHIBITION DESIGN
2019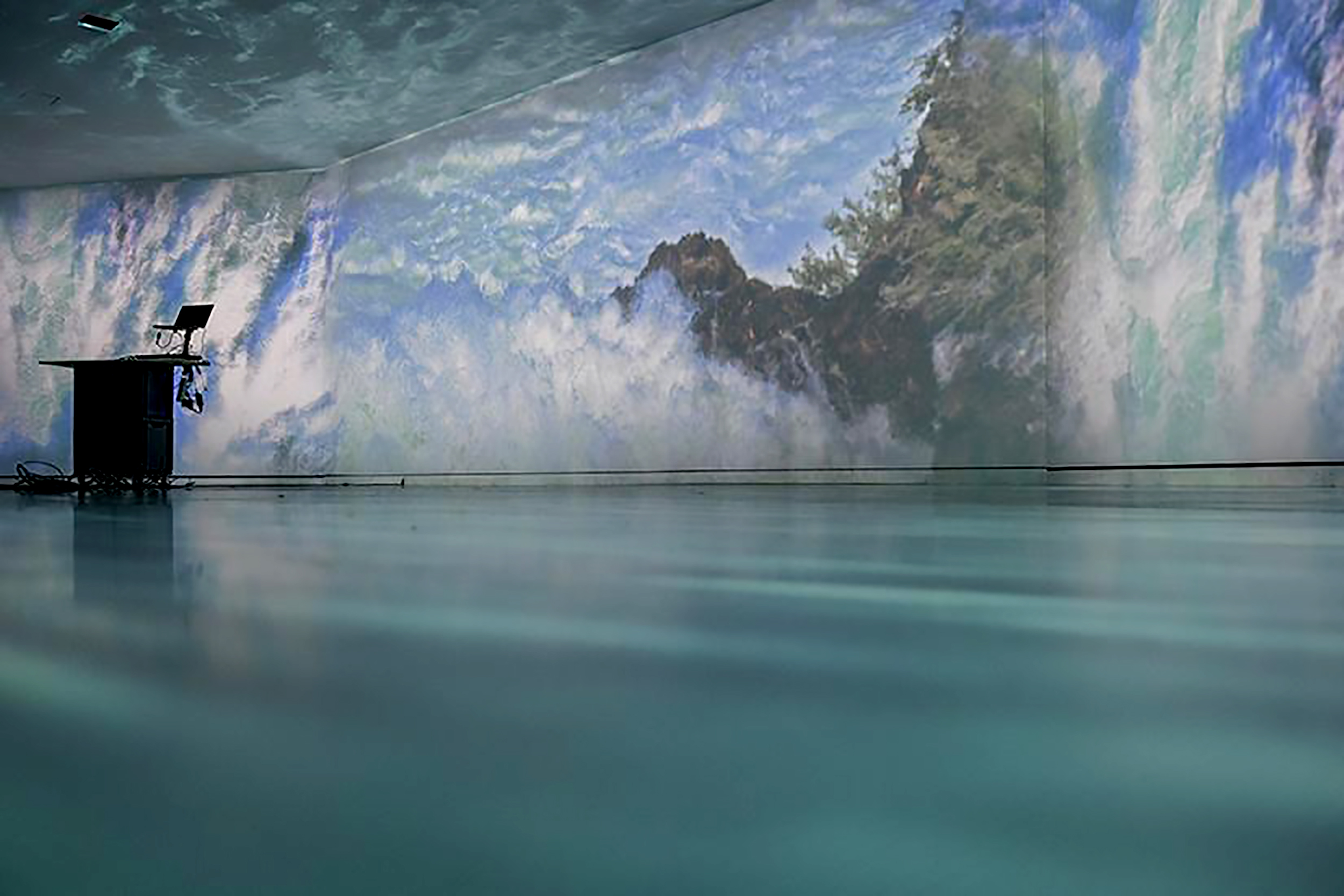 Rhyality Immersive Hall
Work for Dost Architecture GmbH
Neuhausen, Switzerland
Opening 31 July 2020
The first Immersive Art Hall in Europe opens in Neuhausen, directly above the Rhine Waterfall. Equipped with the latest sound and projection technology, the brand new venue offers an escape into a fully immersive audiovisual experience of the Rhine Waterfall. The Immersive Hall, set inside a historical production facility right above the waterfall, begins the ambitious transformation of the SIG industrial district in Neuhausen into a hub for culture and research.
Together with Dost Architecture I planned the refurbishment of the industrial hall and designed the add-on volume, which houses the immersive video room.
Project Lead: Julian Tschanen
Photo credits: Rhyality Immersive Art Hall, moduleplus
TED COMMUNITY
STAGE DESIGN
2014
TED Community Stage
Stage design and build
Work for Michael Green Architecture
2014
The TED conference moved to Vancouver. As part of the internship at Michael Green Architecture, I worked on the design for the community stage. Together with the project group, we came up with the idea of a modular stage that would be made out of local lumber. Each building block would effectively be a planter box, so that after the short event these planter boxes can be delivered to local communities to use in the gardens. As such, the stage contributes to the reforestation efforts in B.C.
Design Lead: Michael Green Architecture
HOW TO LIVE?
PERFORMANCE
2017
How to live?
Unintended perfomance for general public
Competition proposal for the annual Archstoyanie festival near Moscow, Russia
A 4x4 meters large pavilion is proposed for the Archstoyanie festival grounds. This forms a basic personal space. At the irony of fate, performance and everyday meet in this new space for living. The public is invited to leave their unnecessary belongings in the space, and in return receive golden glitter that they can shower into the space from above. Visitors to the pavilion, not left any choice, become participants in a funeral of possessions, accepting a practical uselessness of everything in the space, except a basic need for shelter. A celebration of everyday liberates from the weight of ownership.
In collaboration with Maxim Pravosoudov